DR. BABASAHEB AMBEDKAR MUSEUM

The
Dr. Babasaheb Ambedkar Museum
alias National War Memorial situated at Pune Cantonment near the Pune Railway station, is a patriotic site. It is dedicated to the Indian soldiers, who lost their lives for the nation. The most notable thing about the museum is that it was built by raising funds from the public. Express Citizens' Forum an organization of Pune citizens set up the War Memorial Fund for its construction.
The public contributed to the fund whole-heartedly and finally the foundation of the
Dr. Babasaheb Ambedkar Museum
was laid down in November 1977. The museum was inaugurated and opened for the public in October 1998. The monument is made of stone pillars measuring 25-ft high. Main attraction of the museum is the display of MIG 23 BN, which was used in the Kargil War. The museum opens to public from 9. am to 6. p. m
.Babasaheb Ambedkar Museum
situated on the Senapati Bapat Road is dedicated to
Bhimrao Ramji Ambedkar
, a great freedom fighter and author of the famous Indian Constitution. The foundation stone for the
Babasaheb Ambedkar Museum
was laid down on April 14, 1990 by the then Chief Minister of Maharashtra Hon. Mr. Sharad Pawar and was inaugurated on 26th November, 1996 by the then Vice - President of India Mr. K. R. Narayanan.
The museum preserved a rich collection of the
personal belongings of Dr. Ambedkar
used by him from his childhood to his death. Some of the important items exhibited in the museum are his chairs , footwear and cloths, the bed on which he took his last breath, a wall clock, a night lamp and a paperweight carved with his name, specs, letters in his own handwriting, his paintings, Bharat Ratna awarded to him by President K. R. Venkatraman and a silver ink-bottle with the picture of British Queen presented by Lord Mount Batten, the then Governor General of India. At the center of the museum one can found a white marble statue of Ambedkar, donated by Bharat Singh & Ramdas two of his followers from Agra. . The museum is maintained by the Symbiosis Institute, one of the renowned Educational Institutes of India. The museum opens from 8:30am to 5:30pm. The entry fee is Rs. 5. per head.
Contact Address
Dr.Babasaheb Ambedkar Museum And Memorial
Senapati Bapat Road, Wadarvadi, Pune, Maharashtra 411016
Telephone : 020-25659909
Fax : 020 - 25659209
E-mail : Contact Now
Website:
www.symbiosis-ambedkarmemorial.com
MARBLE BUST OF DR. AMBEDKAR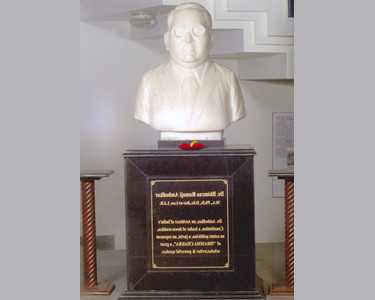 At the center of the museum, we see a marble bust of Dr. Babasaheb Ambedkar, carved in pristine white marble, the only one of its kind in India. This bust has been donated to the museum by two of his followers, Bharat Singh & Ramdas from Agra.
DR.AMBEDKAR CHAIR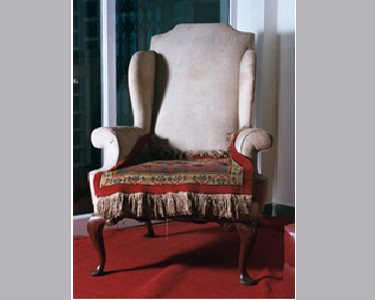 The chair on which Dr.Ambedkar sat when he handed over the Constitution of India.A special feature of the five chairs exhibited in the museum is that they have all been fitted with wheels. Dr. Ambedkar was plagued with number of ailments like high blood pressure, diabetes and found it cumbersome to move around whenever he required something. These chairs enabled him to move around and fetch things he needed.
HOUSEHOLD ARTICLES & DINING TABLE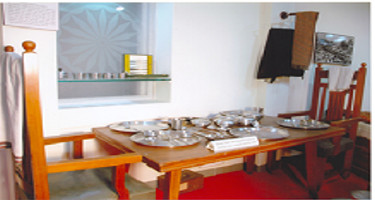 In the same enclosure we can also see Dr.Babasaheb Ambedkar ' s dining table with plates, bowls and other utensils arranged on it. Babasaheb liked to have a breakfast of porridge, cornflakes and eggs cooked in different ways, followed by coffee, he was very fond of. He ate very little for lunch - two phulakas and a little rice. He relished mutton and fish and had a weakness for hilsa fish from Calcutta. He liked to dine in style and loved using tableware and cutlery of the kind used in hotel.
PHOTOGRAPHS Of Dr.Ambedkar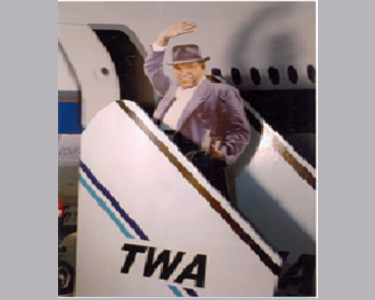 Next to it we come across photographs of four personalities to whom he regarded as Guru Shri. Sayajirao Gaikwad, Chatrapati Shahu Maharaj, Mahatma Jyotiba Phule, Krishanaji Keshav Ambedkar Guruji. In the next triangular enclosure a big cut-out of Dr. Ambedkar attracts us. In this photograph standing on the staircase of the plane he was saying good bye to the people with a smiling face, when he was going to Columbia to receive his LL.D. degree. The LL.D. degree conferred on him at the hands of General Ei-sen-hower (President of the Columbia University, New York) says that " the honorary degree of the Doctor of Laws on Dr. Ambedkar in recognition of Drafting of Indian Constitution, Social Reformer and Valiant fighter for Human Rights " on 5th June 1952.
DEGREES RECEIVED BY DR. AMBEDKAR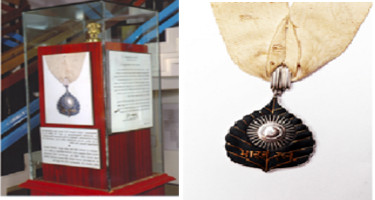 On another stand nearby we can see various degrees, which Dr. Ambedkar had received. These include Doctor of Literature degree of Osmania University, Doctor of Laws degree of Columbia University, appointment letter of Labour Member of Viceroy ' s Executive Council. (2 July 1942). A photo of Bharat-Ratna award is also seen here.
PERSONAL BELONGINGS OF DR. AMBEDKAR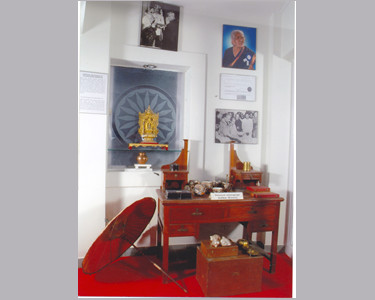 There is one enclosure wherein are articles presented to him during his travels to various places. To name the few of these include pen case, a conch shell, some chinaware, a kettle and a cup and saucer, a lamp, a statue of the Buddha and an ashtray. Babasaheb used to like having his tea in British Style, with tea in a kettle, milk and sugar separate, a habit he had picked up while he was abroad. In the same enclosure we also see a colourful Japanese umbrella presented to Babasaheb during his visit to Rangoon.
CLOTHES OF DR. AMBEDKAR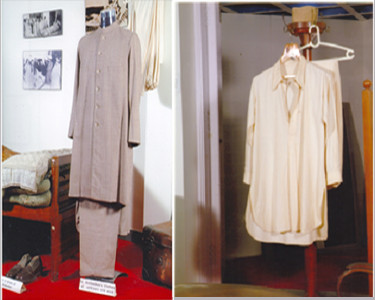 The next enclosure houses a tall wooden stand on which hang some of the clothes of Dr.Ambedkar. Some of these include a pair of Payjamas, 2 cream coloured shirts, a pair of trousers, a Jodhpuri long coat, scarf and a cap. It was in this attire that Dr.Ambedkar delivered his historic speech at the Buddhist Conference held in Kathmandu. Nearby, also lies a pair of shoes. Maisaheb has given this pair of shoes to Mr. Waugh when he was carving statue of Dr. Ambedkar at Kumrej. Everything appears so real that one almost expects Babasaheb to emerge, his feel encased in that pair of shoes, and one is overwhelmed with emotions.
TRAVELING KIT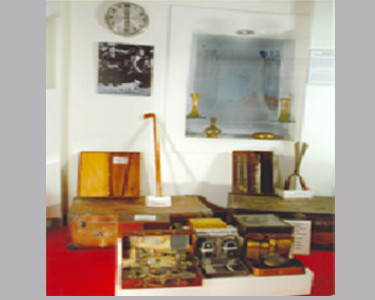 A little ahead, we come across three large bags bearing the initials B.R.A., which were used by Dr.Ambedkar during his journey abroad. These bags accompanied him when he traveled to Columbia & London. These bags contain more books rather than clothes. We can also find here some rubber and glass tubes brought from Kaivalyadham, which were used whenever Babasaheb required artificial respiration. Next to it lies a pair of gardening scissors, which speak for his love for gardening. Here we can also see the photograph of Dr. Ambedkar along with Ramabai.
PAPER WEIGHT, SILVER INKPOT & SPECTACLES,OF DR. AMBEDKAR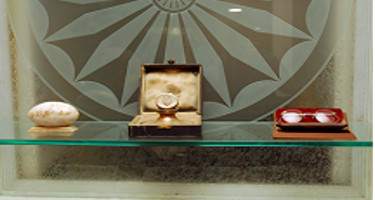 Here, we also find two cup boards filled with Dr.Ambedkar ' s books - books that he loved and handled all the time, so fondly. He was an eminent scholar. He remained a student throughout his life. His wife Dr.Maisaheb recalls that it was an ordeal to make him keep down the books even for his meals. In the window nearby can be seen Babasaheb ' s glasses in the silver frame.Next to it is a silver inkpot presented to Dr.Ambedkar by Lord Mountbatten and lady Edwina Mountbatten when they had invited Dr.Ambedkar and his newly wedded wife Maisaheb Ambedkar for lunch. This inkpot has a portrait of the Queen of England carved on it. In the same window is a paperweight with his name inscribed in blue colour on it. On the table there is a copy of the Constitution of India. There are also rubber stamps of Dr. Ambedkar kept on the same table.
ASTHI KALASH OF DR. AMBEDKAR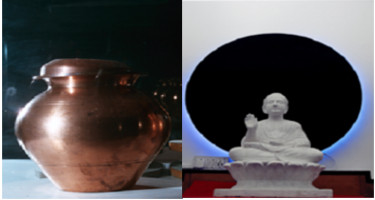 As we mount the stairs we see a statue of the Bhagwan Buddha before which Dr.Babasaheb Ambedkar bowed everyday. Below this is the asthikalash, the urn containing his sacred ashes enclosed in a glass case. The statue of the Buddha is significant because the lord is not in meditation with eyes closed, but is with eyes wide open. Babasaheb believed that this was the Buddha with the open eyes, who travelled far and wide on root enlightening people on the right way of life. It is one of the two statues he had brought from Kathmandu. Below the asthikalash we can see the coveted Bharat Ratna medal and the citation awarded to him for his meritorious service to the nation
RESTING CHAIR OF DR. AMBEDKAR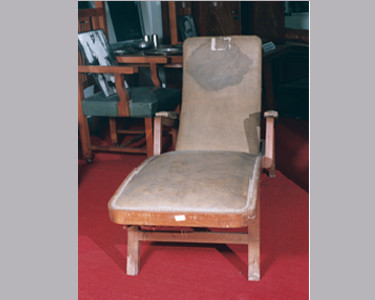 As we enter the museum, on the left hand side enclosure we see some chairs. Amongst these chairs one chair has significant importance. The chair in which Dr. Babasaheb Ambedkar sat when he handed over the Constitution of India to the then President of India Dr. Rajendra Prasad. Here we also see a statue of Dr. Ambedkar & the chair & table in which Dr. Babasaheb Ambedkar used to sit when he framed the Constitution of India.
VIOLIN OF DR. AMBEDKAR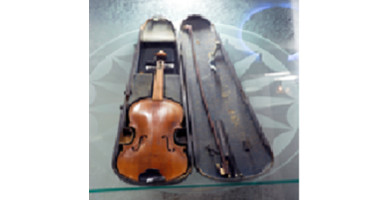 In the window close by, one of the most interesting exhibits is the violin, which Dr. Ambedkar was learning to play. This is almost an uncommon facet of his personality. He purchased this violin in Delhi and learnt to play it from the Sathe Bothers in Mumbai. There is an amusing memory attached to the Sathe Brothers who were adapt at producing a variety of sounds from the violin. Babasaheb got them to imitate animal sounds on the violin and went in to peals of laughter when they did so. He also learnt violin from Mr.Mukherjee in Delhi, but the learning session invariably ended in discussions on politics. All these memories were narrated by Maisaheb Ambedkar who used to stay here on 14th April & 6th December every year.
A BED ON WHICH DR. AMBEDKAR BREATHED HIS LAST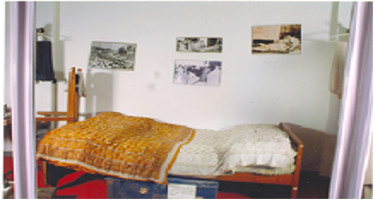 Finally we see a bed on which Dr.Ambedkar breathed his last. Looking at the quilt, the bed and the pillows brings tears to our eyes as we can almost picturise the event and the final moments of this eminent and towering personality. Here we see the photographs of his last journey.